Frequently Asked Questions
---
General
---
1. When is the next release being held?
Our Spring 2018 release is currently underway and will come to a close on Thursday, February 15th.
2. How do I login to my account?
Please click on Current Release and login with your username and password.
3. Why can I not login from my iPhone?
Go into Settings
Scroll down and click on Safari
Scroll down to 'Block Cookies'
Make sure it is checked either 'Allow from Websites I Visit' or 'Always Allow'
4. I can't remember my password. How can I retreive it?
Please click here to have your password sent to your email address on account. Make sure to check your spam folder if you do not see the email. As always, if you need additional help, please call the Tasting Room at 805.237.7575 and we will happily reset your password for you.
---
Purchasing from Allocation
---
5. How do I get my hands on the magnum format of the release wines?
Our magnums are offered on a first-come, first-served basis when the release opens, so we recommend logging in as soon as you can if you want large formats!
6. I didn't get all the Epoch I need! How do I wish for more wine?
Follow the link provided on the 'Order Receipt' page after completing your order.
Or, let us know of any special requests you have in the 'Order Notes' section before you checkout of the online store.
You can also email Meredith at orders@epochwines.com with your request!
7. I need to make some changes to my order; how do I do that?
Please email Meredith at orders@epochwines.com if you have any requests to change your order.
8. What are Entourage Release Prices?
These are special prices available ONLY to our beloved Entourage members on select wines during our releases. After the release, pricing will revert to retail pricing for everyone on all of the wines that have Entourage Release Prices. If you want to snag these stellar prices, we recommend taking advantage of your allocation during our release window.
---
Shipping and Pickup Options on Allocation
---
9. When can I pickup my wine from the Tasting Room?
Orders from the Spring 2018 Release will be available for pickup on or after Saturday, April 7th. Please contact Allie at 805.237.7575 or by email at allison@epochwines.com at least 48 hours in advance to schedule a pickup.
10. When is the pickup party?
It is being held on Saturday, April 7th. We'll send you more party details in the coming weeks.
11. If I choose to ship, when will my Spring 2018 order be sent to me?
All orders will ship on Monday, March 19th, weather permitting, unless otherwise requested.
12. How do I choose to pickup my order in the Tasting Room?
In your Shopping Cart, please select CA as your shipping state, then Proceed to Checkout.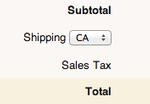 On the following page, select 'Pickup at: Tasting Room' - You can even indicate in your order notes if you have a specific date in mind!
13. What if I live in a state in which Epoch is unable to be shipped?
While we attempt to hold licensing in all possible states, we hope you understand that there are a select few states to which we are unable to ship. If you reside in a state where we do not presently ship, please be sure to choose 'CA' as your 'Shipping' state in your shopping cart so it will allow you to proceed to checkout. Below is a brief overview of your options:
Ship to a friend, associate, or family member located in a state where we presently ship.
Choose 'Pickup at: Tasting Room' and leave us a note explaining your situation.
​Once the release comes to a close, we will be in contact with you to confirm the details.
14. How do I choose a specific carrier to deliver my wine?
On the Billing & Shipping page, please select the level of shipping that you wish: Ground, 2nd Day Air, or Overnight. We will not be shipping with GSO, but if you have a particular preference towards GSO please let Meredith know directly at orders@epochwines.com.
Our default carrier is UPS. Please indicate in your order notes if you would prefer to use a certain carrier. Ex. FedEx.
15. I have purchased at least six (6) 750mL bottles and qualify for inclusive shipping on these 750mL bottles (inclusive shipping does not apply to magnums), but would like to expedite my order. How do I do this?
On the Billing & Shipping page, please select 'Ground' as your shipping option. NOTE: the inclusive shipping will not be reflected in this section. Please look at your Order Summary to confirm the shipping cost you will be charged.

Next, indicate in your order notes the level of shipping that you prefer. We will manually charge you for the additional shipping fees.
If you have any additional questions, please call the Tasting Room at 805.237.7575!